Five-year warranty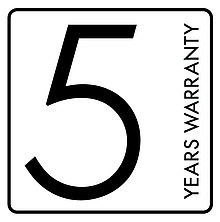 EIZO grants a five-year warranty.* This is possible thanks to the highly developed production process based on a simple principle of success: sophisticated and innovative monitor technology, made from high-end materials.
EIZO is committed to high standards when it comes to manufacturing and materials, as well as to quality control. The quality of each EIZO monitor is continuously reviewed during production, following each individual assembly step. Production steps are immediately optimised if necessary. Before delivery, each device is commissioned and automatically configured. Rather than random sample testing, each individual monitor is checked exactly.
In addition, the so-called aging process ensures maximum reliability: The LCDs undergo a length test during production, which shows up potential problems on-site and not only later during live operations.
For you, the five-year warranty means high investment security and saves you the subsequent costs (total cost of ownership), which would otherwise be incurred without the warranty service, for example for maintenance and repairs.